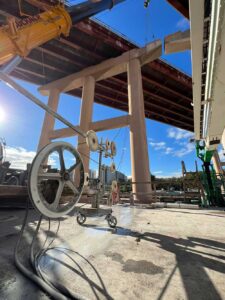 Wire sawing is a cutting procedure that utilizes a 3/8 inch cable/wire with diamond impregnated and vacuum brazed beads. The length of wire depends on what is being cut and how much is needed. Each bead is approximately 11mm round and are molded on every 3/4 inch on the wire. These beads are threaded through a series of pulleys attached to a drive wheel that is powered by a hydraulic power unit. The diamond impregnated wire is continuously pulled through holes in concrete drilled specifically for job application and the actual hydraulic powered unit and tightens as it passes through holes and cuts whatever material being done.
Wire saws are used when other cutting methods are impractical. Wire sawing is ideal for removing large sections of heavily reinforced concrete such as bridge sections, piers, towers and cutting areas where workspace is restricted. Wire sawing enables the operator to cut applications that are not easily accessible and not possible to cut with other saws. The operator is able to cut in any direction, vertically or horizontally at any angle needed.
Our Wire Sawing Tools:
We have two types of diamond wire; impregnated and vacuum brazed. The diamonds are actually impregnated within metal bond bead and this is the most common style of wire. The vacuum brazed diamond wire is for harder concrete and concrete with heavier reinforcement. Vacuum brazing diamond wire cuts the hardest jobs with ease.
Wire Sawing Experts:
Our trained and highly skilled operators can take on any wire sawing job, big or small. We have our diamond wire custom made to our specifications so any application is possible. The most time consuming part of the process is the set-up, the actual cutting part of the process normally goes pretty quickly. Give us a call and we will have one of our trained salesman come out and make sure wire sawing is needed for your application.