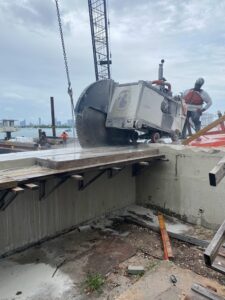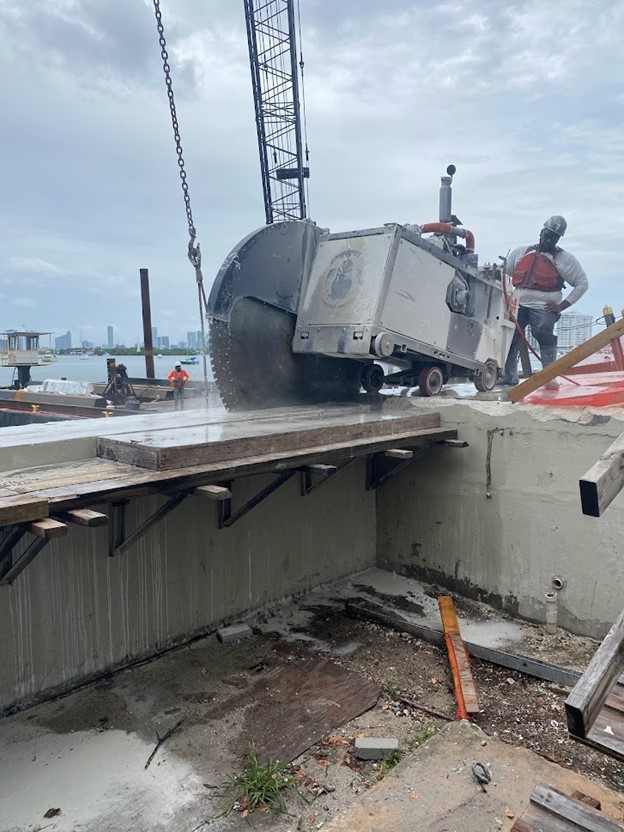 Slab sawing is the horizontal cutting of concrete slabs, bridges, floors and roads with a diamond impregnated tipped circular saw blade. Commonly referred to as flat sawing, slab sawing requires only one operator to run the saw.
Our Diesel And Electric Slab Sawing Tools
We have both diesel powered and electric powered slab/flat saws. The diesel powered saws range from 14 horsepower to 110 horsepower and can cut depths from 1 inch to 33 inches deep. The diesel slab saw is always used for outdoor jobs, due to high emissions due to motor and exhaust. The electric slab saw can safely be used indoors and its range of cut is from 1 inch up to 14 inches depth with its powerful 35 horsepower motors. We can power the electric slab saws with our own generators or can connect into any electric panel.
Starting Your Diesel And Electric Slab Sawing Job
To get a diesel or electric slab saw job started, we would need to know depth of cut (how thick the concrete is), length of cut, where the cutting needs to be done (floor, warehouse, deck, etc.) and whether the job just needs to be cut or would it need to be cut and removed. The cutting part normally goes pretty quickly due to our specifically designed diamond blades for different materials. The most time consuming part of the job is if we are removing the concrete, then the concrete must be cut into smaller pieces for hand or machine removal.
South Florida Diesel And Electric Slab Sawing Experts
We can take on at Reliable Concrete Cutting LLC any size slab sawing job, big or small, with our many trained and highly skilled operators, all with fully equipped trucks and top of the line saws. We are the best due to our exceptional service and experienced operators and our great equipment and we spare no expense to ensure that.