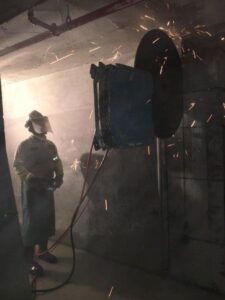 Wall sawing is performed by a circular diamond blade that is spun by a high frequency electric motor that is mounted on a track system. The track must be mounted and installed before any cuts can be made. The track mounted high frequency electric motor attaches to the track with the diamond blade mounted and the precision cutting can begin.
wall-sawing
Our Wall Sawing Tools:
Our wall saws are remote controlled and are the most advanced technology wall saws made by Tyrolit, model number WSE2226. The WSE2226 is a 38 horse power high frequency electric motor that is the largest and most powerful wall saw in the industry. The WSE2226 is powered by our 45 horsepower Wacker towable generators so we are self-sufficient once we get to the job. Our wall saws can run a maximum blade diameter of 86 inches, this gives a total depth of approximately 40 inches. A few benefits of using a wall saw is that the unit is highly portable and easy installed for precision cutting. There are no jobs too big or too small for the wall saw. Once the cutting begins, it can be completed fairly quickly. The most time consuming part of the process is laying out and installing the actual track.
Our trained and highly skilled operators utilize the wall saw with ease and efficiency to meet all expected needs of our customers.
Once we have our marks on what is to be cut and the depth we need, we can connect the track to the concrete with anchors to make the precision cuts that are completed by the wall saw.