Core drilling is done when a circular hole is needed in almost any hard surface. Core drilling is the use of a diamond impregnated tipped drill bit that is hollow cored with the diamond tips on the bottom edge. The diamond impregnated tipped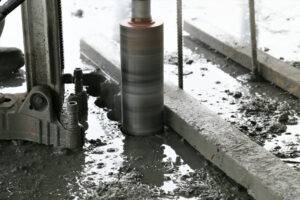 bit attaches to a machine that is either an electrically or hydraulically powered unit. The diamond bit grinds a precise and accurate hole, leaving core center due to hollow bit. Once the hole is cut to the full 14 inch max depth of a standard bit, the core can be broken out. Extensions can be added and the hole can be extended up to 14 inches more of depth to specifications.
Our Core Drilling Tools
All of our fully equipped trucks are outfitted with both handheld electric powered Weka DK12's and DK22's. Each truck can drill a 5/8 inch to 16 inch diameter hole at any time from any of the trucks. If a job requires larger than 16 inch, we would need to use a hydraulic unit. The hydraulic units we own are Diamond Products M6 4-speed, which are much more powerful than electric and the drilling capability ranges 18-60 inch. We readily stock bits up to 48 inch. The drilling process is usually done with water, but if dry application is required, it can also be done.
South Florida Core Drilling Experts
Core drills are used in many applications and our trained and highly skilled operators can handle any coring job, no matter how many holes or how big or small of a diameter, you can count on Reliable Concrete Cutting to get it done. We can drill a hole anywhere you want, any diameter, any angle, just give us a call.