Reliable Concrete cutting has an extensive list of successfully completed Demolition projects in all categories of private and public work. We pride ourselves on the ability to create a special plan for any application.
Hospital / Healthcare
Pools / HardScapes
Education / Schools
Stadium / Theatre
Parking Structure
Airport Runways and Terminals
Water Treatment / Wastewater Treatment
All Types of Commercial / Industrial Applications
Power Plants
All Types of Bridges
Structural Demolition
Structural demo avoids the high cost of complete demolition and rebuild from the ground up by retaining parts of the existing structures to bring them up to code or add on to an existing building / structure.
Selective Demolition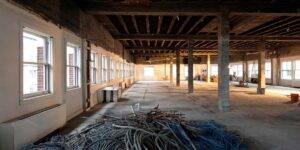 Selective concrete demolition is when we remove concrete while preserving the structural integrity of elements that are to remain in place and not be tampered with. These style of demolition is done by isolating the structural elements to be removed from the parts of the building that are to remain in place. By using tools such as concrete wire saw, track/wall saw, line drilling, or other mechanical means prior to the removal of the designated demolition area, we can ensure that the desired portions are removed safely and that the other parts of the structure remain intact.
Concrete removal is the removal of trenches, wall openings, slabs and other areas that we have cut and can be removed off-site by hand or by bobcat/specialty equipment. Typically, the concrete structure is cut and broken through the use of different types of saws and specialty equipment so that the pieces of concrete are smaller and more easily removable. Concrete removal is frequently needed for plumbers, electricians and HVAC contractors working on remodels or new installation.
Drilling
Your Concrete Removal Job
To get the process started, we must have the layout marked out of what is being removed. In order to decide which saw to use for the job, we must first know how big the job is and what material is being removed. Then, the concrete would need to be cut into smaller pieces or broken with specialty equipment such as a bobcat. We can then move it to a dumpster on site or have it hauled off-site with our trucks/trailers for disposal.
South Florida Concrete Removal Experts
Our trained and highly skilled concrete removal operators and laborers can handle any amount of removal. Reliable Concrete Cutting LLC offers a range of concrete removal services across South Florida. As we have quickly grown, we are expanding our removal services to statewide. There is no job too big or too small for us to take on with our large fleet of operators and trucks. We have the most powerful and efficient saws on all of our trucks to meet the needs of any application in the field.
Call us today for any of your concrete removal needs and you can rely on us to get the job done in a safe and timely manner.